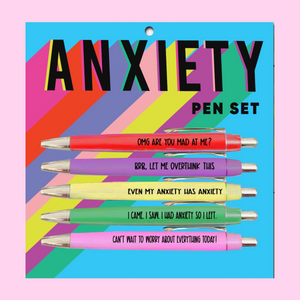 Anxiety Pen Set
Wait, I saw you looking at this pen set but then you didn't buy it? What does that mean? Are you mad at me? 
Set of 5 black ink pens
- OMG ARE YOU MAD AT ME?
- BRB, LET ME OVERTHINK THIS
- EVEN MY ANXIETY HAS ANXIETY
- I CAME. I SAW. I HAD ANXIETY SO I LEFT
- CAN'T WAIT TO WORRY ABOUT EVERYTHING TODAY!
---
Share this Product